With Wonderful Indonesia Flavours kicking off on Food Network with some delicious street stall sweet treats in the very first episode, we decided to round up some of Indonesia's best sweet snacks. These will make you want to book a flight over, or rush to the kitchen and whip some up.
Kue kelapa
In Wonderful Indonesia Flavours (find out more about the show here and then watch Monday to Thursday 6.30pm on Food Network from April 2), popular Indonesian chef Rinrin Marinka takes two Aussies cooks around Indonesia, finding all the enak (delicious) food spots and learning how to make local dishes. In the first episode, she heads to Tomohon, the flower city – where there's a strong palm sugar industry. It's so surprise, then, that she and Australian chef Darren Robertson are keen to try the street stall sweets and kue. Then it's off to meet local cook Tante Bernadeth, who shows them how to make a her version of kue kelapa, delicious deep-fried glutinous rice flour balls coated in caramelised palm sugar.
Try making your own with this recipe from Wonderful Indonesia Flavours.
Kue mangkok / kue apem
Kie apem or apam, a traditional cake made from rice flour, coconut milk and palm sugar, is usually served topped with grated coconut.
Some versions of these little cakes are steamed so that the top of the cakes break open as they rise, forming a shape like a flower blossom.
Ronde
"It's one of my favourite desserts," says Marinka of these small brown balls served in warm ginger sypup, as she guides Aussie chef Tobie Puttock around the heritage-filled city of Solo. They mightn't be as eye-catching as some other Indonesian sweets, but on a cold night a bowl of ronde is a mighty fine way to ward off the chill. Get Marinka's recipe here.
Serabi
This is a thick pancake – some version look like a wider, flatter crumpet, while others are like a round-bottomed crumpet with thin crisp edges –  often eaten drenched in sweet syrup. "A trip to Solo would be incomplete if you haven't stopped by Serabi Notosuman, which has been here since the 1920s," Marinka explains to Puttock, before the owner shows the pair how to make these mini pancakes, which were once eaten for breakfast but are now an all-day snack. Unlike most other pancakes, which are at their delicious best warm, serabi can be served hot or cold.
More of our fave Indonesian sweets follow below, but here's a sneak peek of Marinka and Tobie's visit to Serabi Notosuman, where they try making their own: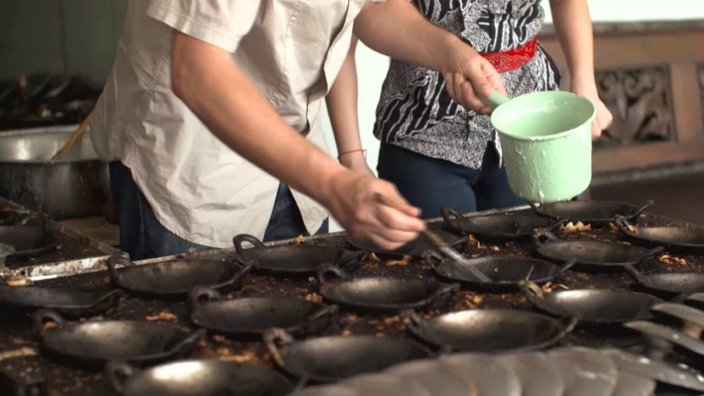 Dadar gulung / dalal gulung
A traditional kue (bite-sized snack), these (most commonly) bright green omelette-pancake hybrids are rolled around a filling such as grated coconut. The vivid colour comes from the use of pandan leaf.
Some versions are even more eye-catching:
Sweet martabak (martabak manis)
If you have even the faintest shade of a sweet tooth, you must try martabak (or murtabak) maniswhen you go to Indonesia! Martabak – like a thick filled pancake – comes in both sweet and savoury versions. The sweet version is traditionally made fillings such as chocolate, condensed milk, peanuts and cheese, although you'll find plenty of inventive variations these days, too. Eat it warm, while the chocolate is still oozing out…
Kue bingka
A sweet, sticky cake with coconut milk, eggs, sugar and sweet potato as the main ingredients, or sometimes made with cassava, banana or pandan.
Dodol
This sticky Indonesian toffee, sticky caramel made from glutinous rice flour, palm sugar and coconut milk, is simmered for up to 9 hours.
Es teler
A sweet icy treat found in food courts and stalls across Indonesia, often made with avocado, coconut flesh and jackfruit.
Cendol
This sweet dessert of green jelly in coconut milk is common in Malaysia as well as Indonesia. Try making your own with this Indonesian recipe from the early days of Food Safari,  or this Malaysian version from Poh & Co.
Pisang Goreng
Who doesn't love a banana fritter?
Onde onde or klepon
Little bite-sized  glutinous rice balls usually filled with brown sugar syrup – like little sweet explosions in your mouth!
Sinole
When Marinka and Tobie Puttock head to Raja Ampat in another episode of Wonderful Indonesia Flavours, she learns how to make a dessert that she's never seen before. "It was quite a challenge for me at the time," she explains when we chat to her about the show. Raja Ampat, in the Papuan part of Indonesia, is still undiscovered by many Indonesians, and Marinka says a lot of people like her, from Jakarta, are unfamiliar with the local desserts. "At first it was intimidating because I had never seen it or made it before. But when I saw the lady in the village make it in front of me, it is easy to make," she says of the crepes known as sinole.