According to state newspaper Rodong Sinmun, the country's Taedonggang brewery claims its new approach using wheat instead of barley "is better than existing beers in terms of its taste and smell", and has "already gained positive reviews from North Korean citizens."
Taedonggang has been developing the beer since at least 2015, possibly after criticism from Supreme Leader Kim Jong-un that imported South Korean beers lacked taste, Seoul's Chosun Ilbo tabloid reported at the time.
Naturally, North Korean media presents the new beer as a victory in Kim Jong-un's plan to lift living standards in the Communist country, saying it is the result of a "round-the-clock battle" to make life "more enjoyable for the people".
Chosun Ilbo claims that Mr Kim is a beer lover, and says he once attempted to set up a German-style biergarten in Pyongyang. However, as Korea Times reports, the German brewery involved spurned the request.
But with many things North Korean, it's hard to tell if the biergarten story is real or rumour.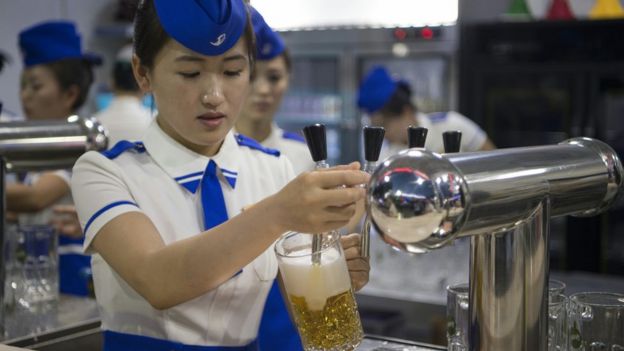 Beer festival axed
The new brew was to have been launched at last July's Pyongyang Beer Festival, which was cancelled without official reason, South Korea's Yonhap news agency said.
The event is a money-spinner for North Korea, with foreign beer-lovers arriving to spend hard currency trying local beers served by waitresses in air stewardess uniforms.
Another big foreign tourist draw – the Wonsan Air Show – was also cancelled at short notice as foreign nations altered travel advice following the death of US tourist Otto Warmbier in June 2017.
The student had been imprisoned in the country on charges of attempted theft of a propaganda poster, and died shortly after being transferred back to the United States.