If you're seeking a tasty twist on the classic tuna sandwich, look no further. This recipe is packed with zesty lemon, shallots, and zero Points® tuna. Read on to discover the mouthwatering recipe!
Lemon-Pepper Tuna Sandwiches
4 Weight Watchers SmartPoints® Per Serving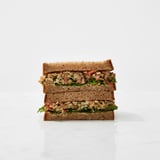 INGREDIENTS
6 ounces water-packed tuna fish, drained
1/2 small uncooked grated carrot
2 tablespoons reduced-calorie mayonnaise
2 tablespoon fresh chopped parsley
1 medium uncooked minced shallot
1 tablespoon fresh lemon juice
1 teaspoon lemon zest, or more to taste
1/2 teaspoon black pepper
4 slices toasted reduced-calorie wheat bread
1/2 cup baby arugula
DIRECTIONS
1. Combine all ingredients, except bread and arugula, in a small bowl; mix well.
2. Layer 2 slices toast with 1/4 cup arugula and about 1/2 cup tuna salad; top with remaining toast slices and serve.
Serving size: 1 sandwich.
INFORMATION
Category: Main Dishes

Yield: Serves 2