I recently read a magazine article that proposed tossing the kale from your refrigerator, forgoing roasted Brussels sprouts at your favorite restaurant and sliding your avocado toast into the trash can. (Or maybe not — avocados are expensive!)
Fear not, this was actually Bon Appetit's humorous retort to a Whole Foods report predicting the top food and drink trends of 2018. Apparently, the grocery chain known for selling an abundance of colorful produce thinks that many of the green foods that were so recently in vogue are going to be dethroned by the likes of floral infusions, "functional" mushrooms and puffed snacks.
At the same time, I've read multiple reports citing an increase in plant-based eating (as well as prudent reminders that most Americans fall short of the recommended daily intake of fruits and vegetables). Personally, I've noticed a recent upsurge in requests for more meatless meals.
Reader requests for more healthy recipes challenge me and raise the bar for my own family — and for that, I'm grateful. Though I'm not a nutritionist, my aim is always to make every recipe as healthy and as delicious as possible.
My goal for the year ahead is to honor those requests in a way that's pleasing to meat and veggie lovers alike. (And yes, I do believe in reasonable portions of dessert!) I'm planning to bolster our intake of plant-based foods in both straightforward and unexpected ways.
A basic green salad, for example, can hit new heights thanks to a simple but flavorful dressing, and there might just be a way to put mushy broccoli to good use. (Stay tuned!)
Starting the new year off with a salad seemed a tad cliche, but I overlooked that detail thanks to the many merits of this wholesome recipe (and technically it's still 2017).
At first glance, the following recipe may seem somewhat ordinary, but the combination of crunchy, chewy, creamy, salty and sweet elements make this colorful salad truly satisfying. Because the components will stay fresh for the better part of a week, they can be mixed in advance and dressed when ready to eat. This sort of simple meal prep makes eating well infinitely easier.
Though you can dress the salad as you please, I particularly enjoy it paired with the following creamy balsamic dressing. For added convenience, this, too, can be prepared ahead and offers a healthier option to many of its store-bought counterparts.
For a hearty, well-rounded meal, I typically serve this salad with a side of chicken, salmon or steak, and it adds a fresh component to heavier fare like mac and cheese, or even pizza. Cooked beans or seared tofu may be added for protein-rich vegetarian options.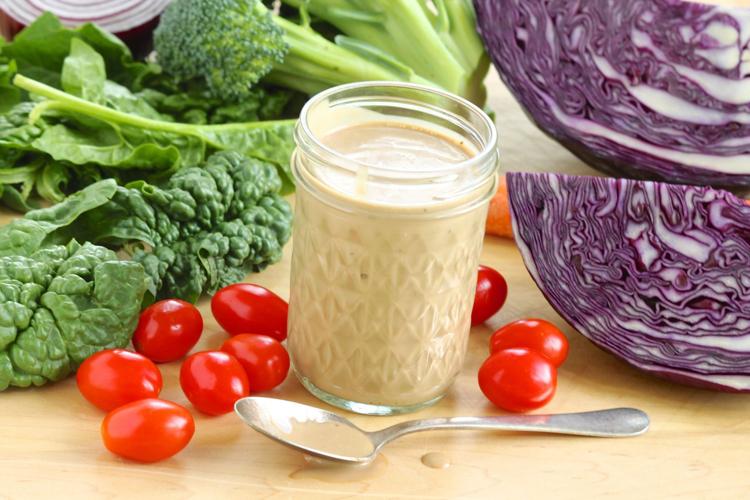 Yield: 4 main dish servings or 6-8 side dish servings
• 4 ounces (about 8 lightly packed cups) baby spinach or mixed greens
• 1 cup shredded cabbage (I like red for color; green is fine, too.)
• 1 cup chopped broccoli, optional*
• 1 carrot, peeled and julienned or shaved into strips with a peeler
• 1/3 cup dried cranberries
• 1/4 cup each slivered, toasted almonds and salted sunflower seeds
• Dressing of choice — creamy balsamic (recipe follows), blue cheese or your favorite vinaigrette are all great options
Add all of the ingredients to a large salad bowl. Drizzle with dressing and toss to evenly coat.
• If you prefer crisp, tender broccoli over raw, simply blanch the florets in a pot of boiling water for 1 to 1 1/2 minutes (or 30-60 seconds longer for more tender florets), and then drain and plunge immediately into a bowl of ice water. Drain again and pat dry. If desired, you may slice the stems and use them, too. This step may be done at the beginning of the week for convenient use over the next 5-7 days.
• To completely prepare this salad in advance, add the desired amount of dressing to the bottom of a salad bowl. Top with the cabbage, carrots and broccoli first, followed by the lettuce. Sprinkle with the cranberries, nuts and seeds. Cover and refrigerate until serving time and then toss as usual. If the salad will be in the refrigerator longer than a few hours, sprinkle the nuts and seeds on just prior to serving to maintain optimal crunch.
The following recipe is a creamy spinoff of a reader and family favorite, aptly titled favorite balsamic vinaigrette.
Replacing 50 percent of the mayo in a given recipe is an easy way to replace unwanted fat and calories with protein and calcium while maintaining great taste and texture.
That's exactly what I did with this recipe, and I reach for it whenever I want that classic balsamic flavor with a little more thickness and oomph.
• 1/4 cup balsamic vinegar
• 1/4 cup extra virgin olive oil
• 1/4 cup plain Greek yogurt (nonfat, 2 percent or whole may be used)
• 1 tablespoon Dijon mustard
• 1/2 teaspoon dried oregano or Italian seasoning
• 1/2 teaspoon kosher salt
In a small bowl, whisk together all of the ingredients until smooth. (You can also add them to a jar with a tight-fitting lid and shake well.)
Cover and refrigerate until needed. The dressing will thicken slightly upon refrigeration and will keep for approximately one week.
• If using in a recipe for which an extra hint of sweetness is desired, simply increase the honey by 1-2 teaspoons or to taste.