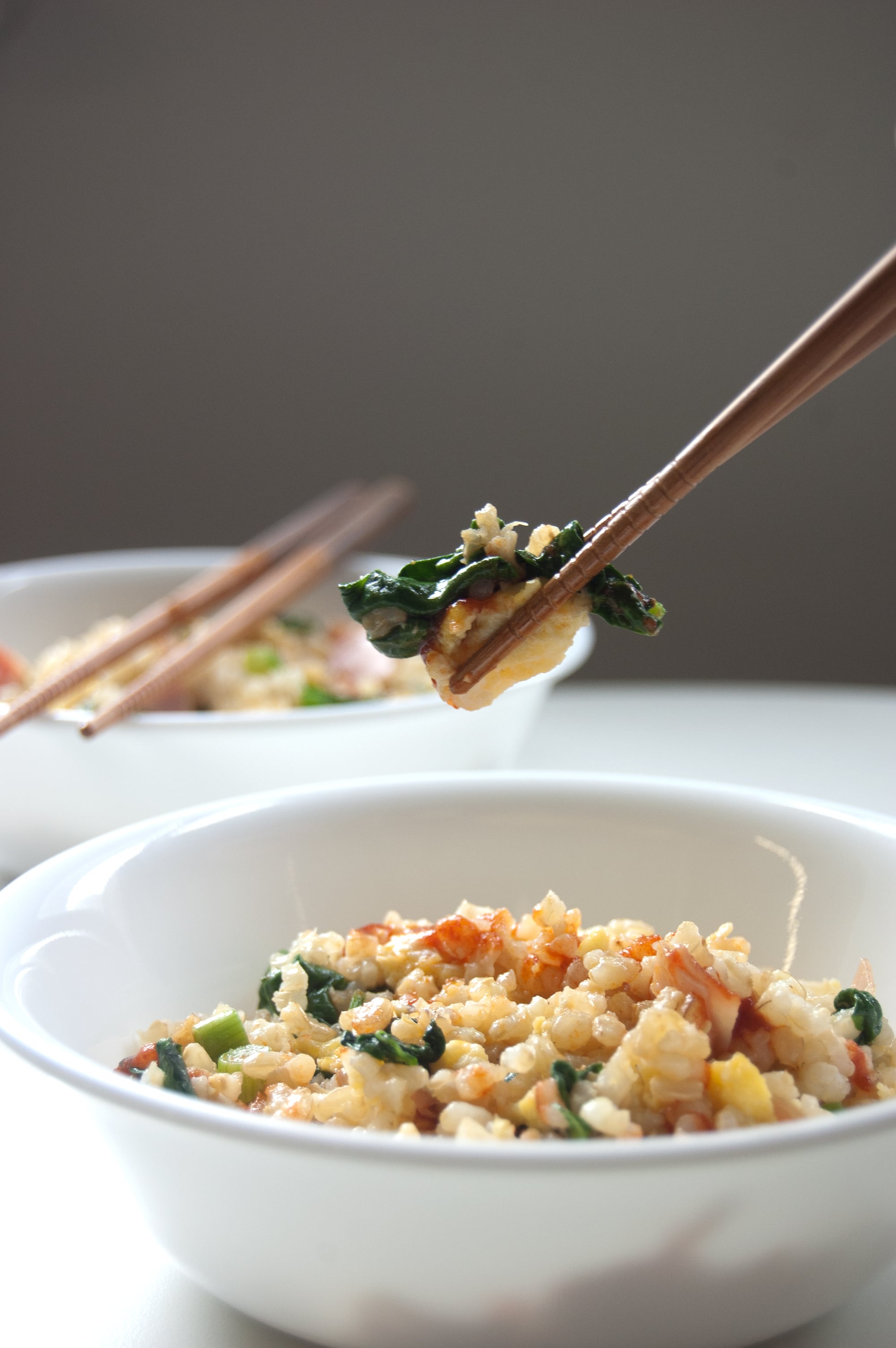 NOTES
It's best to use a nonstick skillet, otherwise the rice, ham, and eggs might stick to the bottom of the pan, even with the recommended amount of oil.
Boost it: When you add the scallions to the pan, add a clove of thinly sliced garlic and/or one 1-inch piece of fresh ginger, finely chopped.
INGREDIENTS
2 tablespoons extra-virgin olive oil, divided
3 cups cooked brown rice, or farro, spelt, or sorghum
1/2 cup chopped ham
3 eggs, lightly beaten
4 scallions, thinly sliced, white and light green parts only (about 1/3 cup)
2 large handfuls baby spinach
1 tablespoon seasoned rice vinegar
1 1/2 teaspoons soy sauce
Sriracha or other hot sauce (optional)
DIRECTIONS
Pour 1 tablespoon of the olive oil into a large skillet over medium-high heat. Add the rice and ham and cook, stirring regularly, until heated through, about two minutes (for a finished dish with a little more texture and crunch, cook an additional one to two minutes).
Push the rice far over to one side of the skillet. In the empty part of the pan, add 1/2 tablespoon of the remaining olive oil. Add the eggs and scramble them just until cooked through. Scoop up the eggs and put them on top of the rice. Pour the remaining 1/2 tablespoon of olive oil into the empty part of the pan and add the scallions. Sauté for about 1 minute to soften. Add the spinach and sauté just enough to wilt. Stir everything thoroughly together in the pan. Add the rice vinegar and soy sauce and stir again. Serve with sriracha on the side, if desired.
Source: From Rise and Shine by Katie Sullivan Morford, © 2016 by Katie Sullivan Morford. Photographs © 2016 by Erin Scott. Reprinted by arrangement with Roost Books, an imprint of Shambhala Publications, Inc. Boulder, CO. www.roostbooks.com
INFORMATION
Category Breakfast/Brunch

Cuisine Chinese

Yield 3 to 4 servings